Spring in Provence
I'm back from Provence! A few weeks ago I visited the French Riviera! Our destination this time was Gordes, a hilltop village in the heart of Provence also designated as the capital of the Luberon region.We visited poppy fields, surroundings and the Colorado Provencal! Have a look...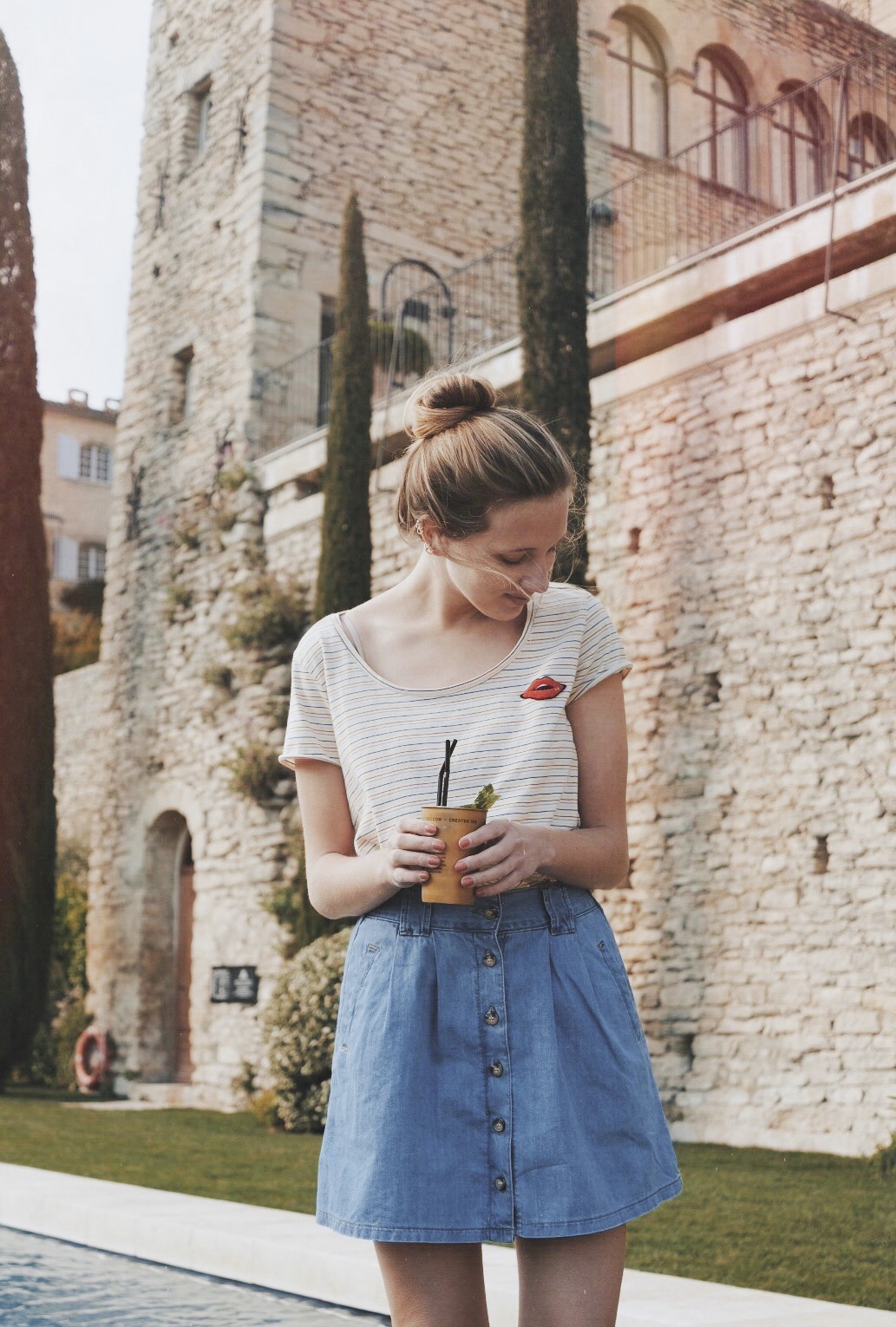 Holidays are made for recovering, right? So first, pool & cocktail time with a view... Our hotel: La Bastide de Gordes.
Next step, exploring the Provence deeper.. Let me introduce you, the Colorado Provencal, a French wonder in Rustrel, situated on one of the largest ochre quarries in the world. I was speechless. Look at these giants below!! We walked here for hours and I felt so inspired by mother nature.. You also need to visit Roussillon, a village being famous for its pinkish and yellow stone houses!
I loved coming back to Gordes after a long day and enjoy a cold drink in the sun..
Let me tell you something about that dress, my crush for our French holidays!
It's dress from People Tree, a sustainable fashion brand which works with organic cotton and handprinting. I love these colorful stripes! Thanks to Charlie + Mary for making me discover this amazing brand! In fact, Charlie + Mary is the pioneer of True Fashion, which is everything that adds value to the story behind the clothes, like the creative design process, the brand's philosophy, traditional craftsmanship or the cotton grown by a farmer in another part of the world. In True Fashion, you know that what you wear is made with respect for humans, the environment and animals! Use my code 'annakatina15' for a -15% discount on the whole Charlie + Mary e-shop except items on sale! :)
Let's continue to explore Gordes...
What I really loved about Provence is the multiple hidden magical corners.. A curved tree, a pink door, an old Coca-Cola board, a cute restaurant,.. It's a magical place with many details! And then the several sights, like to local mini-me Colorado, the different villages which all have a particularity, the poppy fields, the lavender willows (which will blossom in Summer), the Cypress trees - these tall, tiny beauties, the traditional Provencal stone houses... I felt like Anna in Wonderland. And I loved chasing the golden hour in the evenings.. Such a precious short moment..
PS. Most of the photos were taken with Fuji X-Pro 2!